The most touching, beautiful stories about animals are the ones where mutual rescue happens.
This is also my story.
I have been a therapist and a healer for the last 20 years. It wasn't until Charlie came into my life and changed it forever that I realised my passion for working on deepening the relationship between animals and their humans.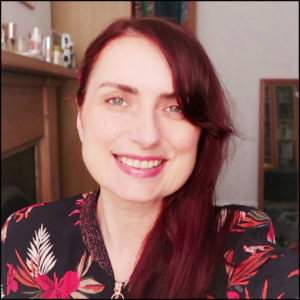 He taught me loyalty, love and commitment to a degree I never thought was possible.
Charlie is the inspiration behind this website and a big inspiration in my private and professional life. I gave Charlie a home and he gave his heart & soul. It was love at first sight

In my mid 20's I became interested in psychology and natural healing. I started my journey learning psychotherapy, aromatherapy, therapeutic bodywork and energy healing.
I have always loved animals and felt drawn to the natural world. As a child I collected ladybirds and snails, had a succession of hamsters, guinea pigs and budgies, played with neighbours' dogs and family members' cats.  As teenagers, a friend of mine and I rescued a few stray dogs and found them loving homes. 
Curiosity took me to places like Bali, Indonesia to learn how to help deliver babies, and I studied to be a Doula (birthing assistant) with The Doula Consultancy Services. I also studied kinesiology, nutrition, energy psychology, EFT, BodyTalk, EmoTrance, hypnotherapy, Hakomi Therapy and Internal Family Systems therapy. 
For 10 years from 2003 – 2012 I worked at Women & Health as an aromatherapist and a biodynamic counsellor.
We worked with women who experienced anxiety, depression, serious mental health problems and with victims of sexual violence. It was a challenging and demanding but extremely rewarding work. I worked on projects with The Rape Crisis and on projects for carers of children with disabilities and carers of elderly with dementia. I also worked with children with disabilities and learning difficulties and their parents and guardians at a place called Palace for All. 
Recently, I have completed Diploma in Energy Healing for Animals and many courses and workshops on plant medicine.
In my work I combine Applied Zoopharmacognosy, working with plants and mindfulness. It is helping animals and people find a deep sense of trust and confidence while opening new possibilities of co-operation. It is truly beautiful and gentle work but powerful enough to change deep-seated behavioural problems and facilitate nourishing connection between you and your animal.  
My healing qualifications:
Working with Women Psychodynamically – Sep – June 2001
Diploma in Anatomy, Physiology and Massage 2002
Diploma in Aromatherapy 2002
Diploma in Biodynamic Massage 2003
Indian Head Massage Diploma 2003
Kinesiology Certificate 2006
Body Talk certificate 2007
Advanced Diploma in EFT 2008
Ayurvedic Face Massage Diploma 2009
Emotional Clearing Practitioner Diploma – John Ruskan 2009
College of Natural Nutrition Diploma 2009
Hypnotherapy Certificate 2011
Energy EFT Master Practitioner Diploma 2012
EmoTrance Diploma 2012
Hakomi Body-Centred Psychotherapy – various workshops 2012 – 2018
Astrology Foundations – 1 year Nick Hughes 2014
EFT Foundations 2016
Diploma in Energy Healing for Animals 2017
Diploma in Canine Communication 2017
Foundations in Canine-assisted Therapy 2017
Canine Massage Certificate 2017
Trust Technique – James French 2018
Animal Communication ACT1 James French 2018
Certificate in Canine Wellness and Balanced Behaviours (1 day) 2018
Certificate in Complete Canine Wellness (4 days) 2018
Foundations of Psychological Astrology 2019 CPALondon.com
Applied Zoopharmacognosy for Dogs – Caroline Ingraham Gateway 1, 2 & 3 2019
PsychAromatica for Animals – Certificate 2019 Nayana Morag
Modern Energy Tapping MET Pro Diploma 2019
Slacker Magic 2020
PsychAromatica for Animals – Diploma 2020 Nayana Morag, Portugal
Shamanic Herbalism Pathway 1 2020
Shamanic Herbalism Pathway 2 2021
Alchemy: Aromatherapy and the Medicine of the Soul – AromaGnosis 2020/21
Sacred Plant Medicine Mentorship Programme 2021
Poisonous Plant Medicine 2021
Dreaming Yourself Awake with The Shift Network by Paul Levy 2021
Internal Family Systems Basic Course August 2021
Internal Family Systems Exiles Course October 2021
Whole Energy Body Balance for Animals – Dr. Edward Bassingthwaighte 2021
Intuitive Plant Medicine – One Willow Apothecaries 2021
Botany 101 2021/22
Internal Family Systems – Inner Critic January 2022
IFS The Gifts of Exiles – Paul Neustadt January 2022
IFS Working with Difficult Protectors Mike Elkin February 2022
IFS Transcending Trauma Frank Anderson March 2022
IFS Online Circle April – September 2022
TIST Level 1 – Trauma Informed Stabilisation Treatment – Janina Fisher Sep – Dec 2022
TIST Level 2 – Trauma Informed Stabilisation Treatment – Janina Fisher Jan – Apr 2023
TIST Level 3 – Trauma Informed Stabilisation Treatment – Janina Fisher May – Jul 2023
IFS Level 1 training April – June 2023
IFS Introduction to Somatic IFS – Susan McConnell Sep – Dec 2022
IFS Direct Access – Fran Booth April – August 2023